What is Excel?
Excel is pronounced "Eks – sel"
It is a spreadsheet program developed by Microsoft. Excel organizes data in columns and rows and allows you to do mathematical functions. It runs on Windows, macOS, Android and iOS.
MS-EXCEL is a part of Microsoft Office suite software. It is an electronic spreadsheet with numerous rows and columns, used for organizing data, graphically represent data(s), and performing different calculations. It consists of 1048576 rows and 16384 columns, a row and column together make a cell. Each cell has an address defined by column name and row number example A1, D2, etc. this is also known as a cell reference.
The first version of Ms-Excel was released in 1985 and has gone through several changes over the years. However, the main functionality mostly remains the same.
Excel is typically used for:
Analysis
Data entry
Data management
Accounting
Budgeting
Data analysis
Visuals and graphs
Programming
Financial modeling
And much, much more!
Why Use Excel?
· It is the most popular spreadsheet program in the world
· It is easy to learn and to get started.
· The skill ceiling is high, which means that you can do more advanced things as you become better
· It can be used with both work and in everyday life, such as to create a family budget
· It has a huge community support
· It is continuously supported by Microsoft
Benefits of Using MS Excel
MS Excel is widely used for various purposes because the data is easy to save, and information can be added and removed without any discomfort and less hard work.
Given below are a few important benefits of using MS Excel:
Easy To Store Data: Since there is no limit to the amount of information that can be saved in a spreadsheet, MS Excel is widely used to save data or to analyse data. Filtering information in Excel is easy and convenient.
Easy To Recover Data: If the information is written on a piece of paper, finding it may take longer, however, this is not the case with excel spreadsheets. Finding and recovering data is easy.
Application of Mathematical Formulas: Doing calculations has become easier and less time-taking with the formulas option in MS excel
More Secure: These spreadsheets can be password secured in a laptop or personal computer and the probability of losing them is way lesser in comparison to data written in registers or piece of paper.
Data at One Place: Earlier, data was to be kept in different files and registers when the paperwork was done. Now, this has become convenient as more than one worksheet can be added in a single MS Excel file.
Neater and Clearer Visibility of Information: When the data is saved in the form of a table, analysing it becomes easier. Thus, information is a spreadsheet that is more readable and understandable.
Get Started
This tutorial will teach you the basics of Excel.
It is not necessary to have any prior experience with spreadsheet programs or programming.
The truth is: before you go for a job interview, you must have basic knowledge of Microsoft Excel. From an accountant to a receptionist, human resources to administration departments all are using Microsoft Excel.
It is not only limited to large companies, small entrepreneurs and college students are using it for their day-to-day work. That's something which you can't skip. To get a job, learning basic Excel tasks (at least some) is a must in today's era, that's a firm truth.
And, to help you in this we have compiled this guide. This guide will help you to learn all those basics using some examples. And some of the most important beginner's tutorials.
Class Details:
Venue : WhatsApp Group
Training Date : Saturday, Oct 22 – Saturday, Oct 29, 2022.
JOIN THE TRAINING CLASS HERE.
𝐇𝐨𝐰 𝐭𝐨 𝐉𝐨𝐢𝐧 𝐭𝐡𝐞 𝐓𝐫𝐚𝐢𝐧𝐢𝐧𝐠?
Follow the WhatsApp group link below
https://chat.whatsapp.com/IU7Gjt0HZLn6qbhRucti2O
Training Date: Oct 22 – Oct 29
Training Venue: Whatsapp group
𝐉𝐨𝐢𝐧 𝐂𝐥𝐚𝐬𝐬 𝐕𝐢𝐚 𝐓𝐡𝐞 𝐋𝐢𝐧𝐤 𝐁𝐞𝐥𝐨𝐰:
https://chat.whatsapp.com/IU7Gjt0HZLn6qbhRucti2O
See you in class
For Enquiries: whatsapp/call : 09129971102, 09036482973. Email: info@academee.net
More About Microsoft Excel
There are a number of spreadsheet programs but of all of them, Excel is the most widely used. People have been using it for the last 30 years and throughout these years, it has been upgraded with more and more features.
The best part about Excel is, that it can apply to many business tasks, including statistics, finance, data management, forecasting, analysis, tracking inventory & billing, and business intelligence. Following are the few things which it can do for you:
Number Crunching
Charts and Graphs
Store and Import Data
Manipulating Text
Templates/Dashboards
Automation of Tasks
And Much More…
The three most important components of Excel you need to understand first:
1. Cell
A cell is a smallest but most powerful part of a spreadsheet. You can enter your data into a cell either by typing or by copy-paste. Data can be a text, a number, or a date. You can also customize it by changing its size, font color, background color, borders, etc. Every cell is identified by its cell address, cell address contains its column number and row number (If a cell is on the 11th row and on column AB, then its address will be AB11).
2. Worksheet:
A worksheet is made up of individual cells which can contain a value, a formula, or text. It also has an invisible draw layer, which holds charts, images, and diagrams. Each worksheet in a workbook is accessible by clicking the tab at the bottom of the workbook window. In addition, a workbook can store chart sheets; a chart sheet displays a single chart and is accessible by clicking a tab.
3. Workbook
A workbook is a separate file just like every other application has. Each workbook contains one or more worksheets. You can also say that a workbook is a collection of multiple worksheets or can be a single worksheet. You can add or delete worksheets, hide them within the workbook without deleting them, and change the order of your worksheets within the workbook.
Microsoft Excel Window Components
Before you start using it, it's really important to understand what's where in its window. So ahead we have all the major components which you need to know before entering the world of Microsoft Excel.
Active Cell: A cell that is currently selected. It will be highlighted by a rectangular box and its address will be shown in the address bar. You can activate a cell by clicking on it or by using your arrow buttons. To edit a cell, you double-click on it or use F2 as well.
Columns: A column is a vertical set of cells. A single worksheet contains 16384 total columns. Every column has its own alphabet for identity, from A to XFD. You can select a column by clicking on its header.
Rows: A row is a horizontal set of cells. A single worksheet contains 1048576 total rows. Every row has its own number for identity, starting from 1 to 1048576. You can select a row by clicking on the row number marked on the left side of the window.
Fill Handle: It's a small dot present in the lower right corner of the active cell. It helps you to fill numeric values, text series, insert ranges, insert serial numbers, etc.
Address Bar: It shows the address of the active cell. If you have selected more than one cell, then it will show the address of the first cell in the range.
Formula Bar: The formula bar is an input bar, below the ribbon. It shows the content of the active cell and you can also use it to enter a formula in a cell.
Title Bar: The title bar will show the name of your workbook, followed by the application name ("Microsoft Excel").
File Menu: The file menu is a simple menu like all other applications. It contains options like (Save, Save As, Open, New, Print, Excel Options, Share, etc).
Quick Access Toolbar: A toolbar to quickly access the options which you frequently use. You can add your favorite options by adding new options to the quick access toolbar.
Ribbon: Starting from Microsoft Excel 2007, all the options menus are replaced with ribbons. Ribbon tabs are a bunch of specific option group which further contains the option.
Worksheet Tab: This tab shows all the worksheets which are present in the workbook. By default you will see, three worksheets in your new workbook with the names Sheet1, Sheet2, and Sheet3 respectively.
Status Bar: It is a thin bar at the bottom of the Excel window. It will give you instant help once you start working in Excel.
Creating a new spreadsheet:
In Excel 3 sheets are already opened by default, now to add a new sheet :
In the lowermost pane in Excel, you can find a button.
Click on that button to add a new sheet.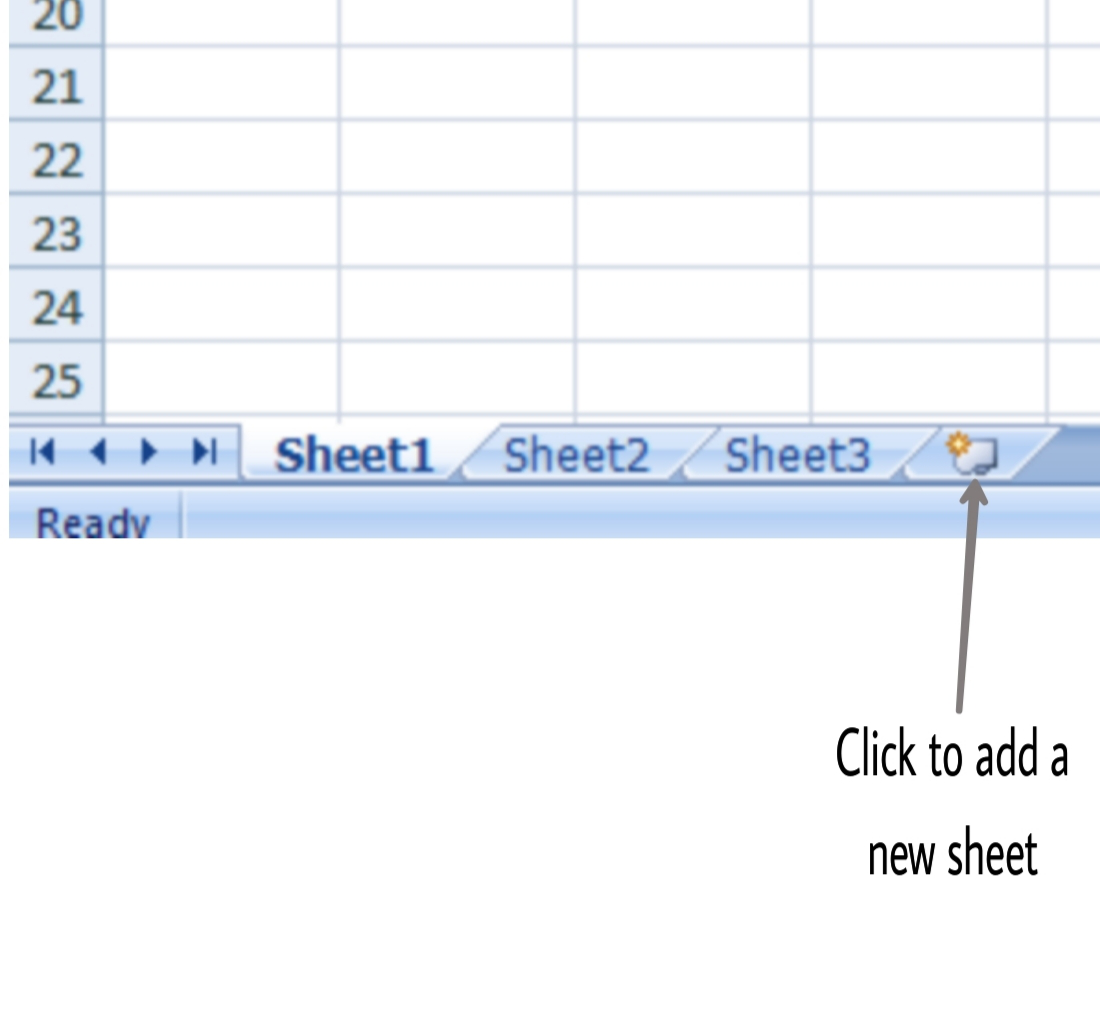 We can also achieve the same by Right-clicking on the sheet number before which you want to insert the sheet.
Click on Insert.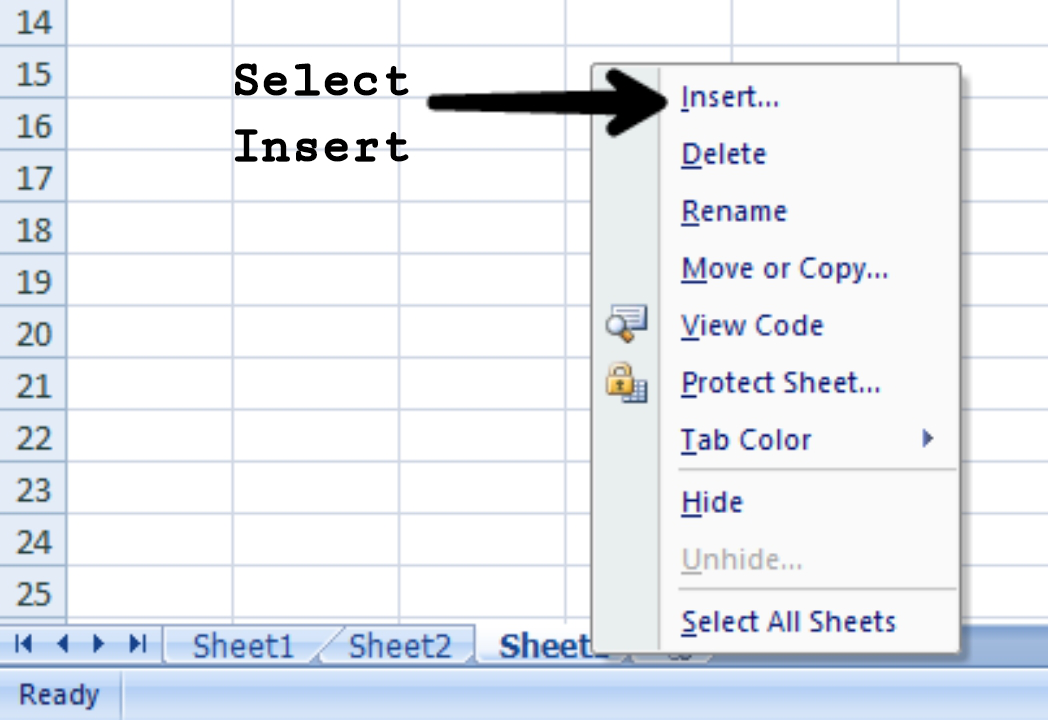 Select Worksheet.
Click OK.
Opening previous spreadsheet:
On the lowermost pane in Excel, you can find the name of the current sheet you have opened.
On the left side of this sheet, the name of previous sheets are also available like Sheet 2, Sheet 3 will be available at the left of sheet4, click on the number/name of the sheet you want to open and the sheet will open in the same workbook.
For example, we are on Sheet 4, and we want to open Sheet 2 then simply just click on Sheet2 to open it.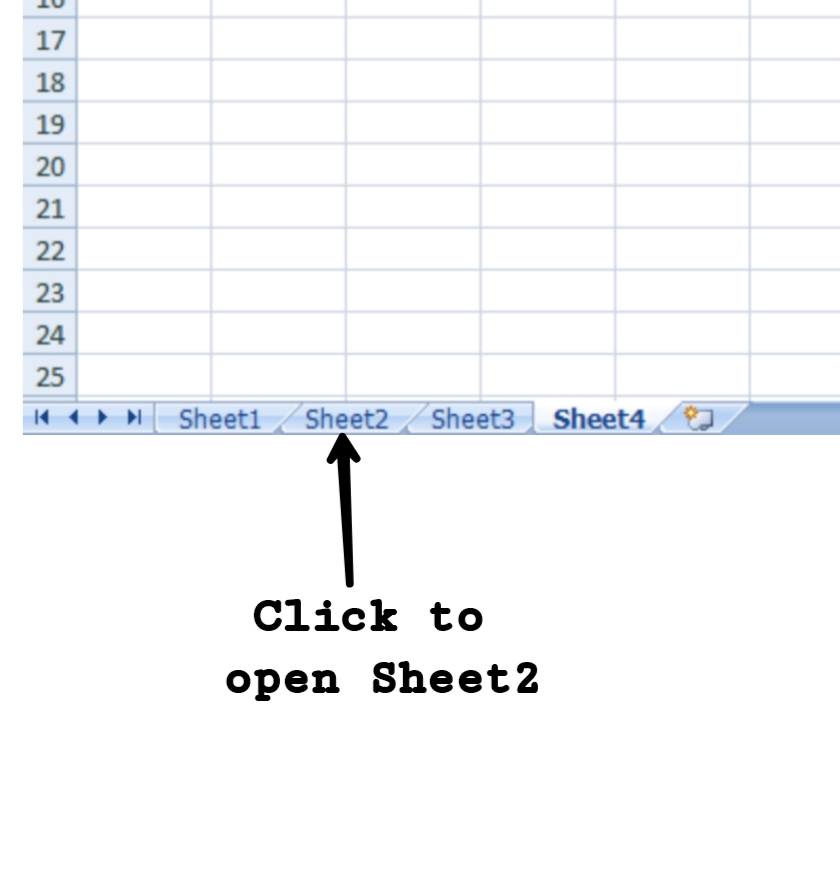 Managing the spreadsheets:
You can easily manage the spreadsheets in Excel simply by :
Simply navigating between the sheets.
Right-clicking on the sheet name or number on the pane.
Choose among the various options available like, move, copy, rename, add, delete etc.
You can move/copy your sheet to other workbooks as well just by selecting the workbook in the To workbook and the sheet before you want to insert the sheet in Before sheet.
To save the workbook:
Click on the Office Button or the File tab.
Click on Save As option.
Write the desired name of your file.
Click OK.
To share your workbook:
Click on the Review tab on the Ribbon.
Click on the share workbook (under Changes group).
If you want to protect your workbook and then make it available for another user then click on Protect and Share Workbook option.
Now check the option "Allow changes by more than one user at the same time. This also allows workbook merging" in the Share Workbook dialog box.
Many other options are also available in the Advanced like track, update changes.
Click OK.
Ms-Excel shortcuts:
Ctrl+N: To open a new workbook.
Ctrl+O:To open a saved workbook.
Ctrl+S: To save a workbook.
Ctrl+C: To copy the selected cells.
Ctrl+V: To paste the copied cells.
Ctrl+X: To cut the selected cells.
Ctrl+W: To close the workbook.
Delete: To remove all the contents from the cell.
Ctrl+P: To print the workbook.
Ctrl+Z: To undo.
To help you with Microsoft Excel, we have compiled this guide and the training class. The Excel Training Class will help you to learn all you need to know in Excel to get started.
Class Details:
Venue : WhatsApp Group
Training Date : Saturday, Oct 22 – Saturday, Oct 29, 2022.
JOIN THE TRAINING CLASS HERE.
𝐇𝐨𝐰 𝐭𝐨 𝐉𝐨𝐢𝐧 𝐭𝐡𝐞 𝐓𝐫𝐚𝐢𝐧𝐢𝐧𝐠?
Follow the WhatsApp group link below
https://chat.whatsapp.com/IU7Gjt0HZLn6qbhRucti2O
Training Date: Oct 22 – Oct 29
Training Venue: Whatsapp group
𝐉𝐨𝐢𝐧 𝐂𝐥𝐚𝐬𝐬 𝐕𝐢𝐚 𝐓𝐡𝐞 𝐋𝐢𝐧𝐤 𝐁𝐞𝐥𝐨𝐰:
https://chat.whatsapp.com/IU7Gjt0HZLn6qbhRucti2O
See you in class
For Enquiries: whatsapp/call : 09129971102, 09036482973.  Email: info@academee.net